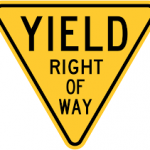 Louisiana Revised Statute 32:123 provides that a driver shall yield the right of way to all vehicles which have entered an intersection from another highway or which are approaching so closely on said highway as to constitute an immediate hazard.  Failing to yield to the favored motorist can have devastating consequences, as was the case on September 12, 2019 in Calcasieu Parish when a two-vehicle wreck claimed the lives of two Sulphur, Louisiana residents.
Around 8:00 p.m., a 2019 Kia Rio traveling east on Louisiana Highway 108 failed to yield while turning left onto Louisiana Highway 27 near Sulphur, Louisiana.  The Kia Rio turned left into the path of a westbound 2014 Ford F-150 resulting in the fatal wreck.  The driver and passenger in the Kia Rio were pronounced dead at the scene.  The driver of the F-150 sustained moderate injuries.
Under Louisiana law, the left-turning driver who fails to yield is presumed to be at fault for the wreck and is responsible for all damages that follow, including for the wrongful death of a passenger.  Louisiana Civil Code Article 2315.2 provides that a Louisiana wrongful death claim can be brought by the deceased's (1) spouse and children, or if none, (2) by the parents, or if none, (3) by the siblings, or if none, (4) by the grandparents.  The right to bring a Louisiana wrongful death claim prescribes one year from the death of the deceased.
Dué Guidry Piedrahita Andrews Courrege L.C. specializes in Louisiana car wreck cases involving serious personal injury and wrongful death.  The Baton Rouge, Louisiana law firm and its two Members have been recognized by Best Law Firms®, Best Lawyers®, and Super Lawyers® in the practice area of Plaintiff Personal Injury.  Contact one of the  firm's car wreck specialists for more information.