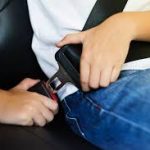 Shortly after 7:00 a.m. on September 18, 2019, a two vehicle wreck involving a big rig occurred on US Highway 61 or Airline Highway in St. John the Baptist Parish. The fatal big rig wreck took the life of an unbelted 27-year-old resident of Reserve, Louisiana.
The 27-year-old was driving a 2018 Chevrolet Cruze southbound on Terre Haute Road in an attempt to cross Airline Highway.  A 2020 Kenworth 18-wheeler was traveling southbound on Airline Highway.  As the Chevrolet Cruze crossed Airline Highway, it was impacted on the passenger side by the big rig. The 27-year-old driver of the Chevrolet Cruze was not restrained and sustained severe injuries in the wreck.  She died at a local hospital.
While the Louisiana Highway Regulatory Act requires the use of seat-belts, La.R.S. 32:295.1(E) provides that in any action to recover damages arising out of the ownership, common maintenance, or operation of a motor vehicle, failure to wear a seat-belt shall not be considered evidence of comparative negligence. Failure to wear a seat-belt shall not be admitted to mitigate damages.
The Baton Rouge, Louisiana injury lawyers at Dué Guidry Piedrahita Andrews Courrege L.C. specialize in serious personal injury and wrongful death cases involving big rig wrecks.  Firm members, Kirk A. Guidry and B. Scott Andrews, both enjoy the prestigious AV Peer Review Rating from Martindale-Hubbell, signifying the highest legal ability and ethical standards.